PAC4SWX TIFF options
PAC4SWX is a tool to print and convert SolidWorks drawing. With PAC4SWX you can choose multiple drawings from your filesystem and print or convert all sheets of all drawings in one step. PAC4SWX will take care of the different sheet sizes.
Set TIFF options
You can set various options PAC4SWX will use for exporting for each sheet in a SolidWorks drawing.
The Get opt. button will get the active settings for TIFF export in SolidWorks, the Set opt. will set the entered options and values in SolidWorks so you don't have to fiddle with export-dialog in SolidWorks.
The settings can be saved on a user-bases in the main dialog. If you want to store the settings in a file or read them from a file you may do so from the main dialog.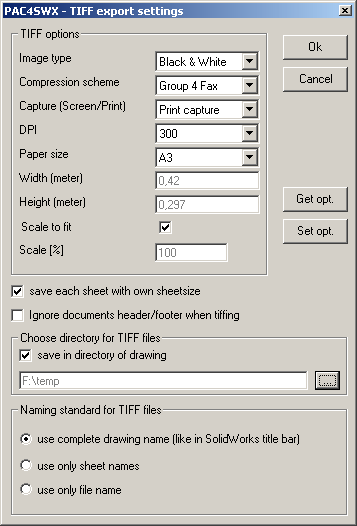 The TIFF options dialog is divided in three areas:
TIFF options
In this area you can set the export parameters as in SolidWorks. For a description of this options please refer to the online-help in SolidWorks. Please note that several options exclude each other.
save each sheet with own sheetsize
If this option is checked PAC4SWX (other than SolidWorks) will first determine the correct size of each drawing sheet and will use this size and not the size set for TIFF export parameters. So you have each sheet saved with its correct size.
Ignore documents header/footer when printing
If set PAC4SWX will ignore custom defined header and footer for converting to TIFF. The option is useful with SolidWorks 2001Plus, where the header/footer are stored with the document. If you generate TIFF files to archive you would otherwise have to check each drawing if header/footer is set by a previous user of that drawing.
Choose directory for TIFF files
If you set the option save in directory of drawing all exported TIFF files are saved to the directory, where the drawing is stored. If you want to gather all exported TIFF files in one directory uncheck this option and enter a directory path in the textbox or use the button to browse the directory (recommended).
Naming standard for TIFF files
You can choose whether the exported TIFF files use the complete drawing name or only the sheet names. If you choose use only sheet names make sure, that all sheets in all drawing have unique names. If your drawings have only one sheet the option use only file name may be useful. Note: don't use the last setting if you have multi-sheet drawings.
Any existing TIFF files in the target directory with the same name will be overwritten without warning.

| | |
| --- | --- |
| | Any questions and hints? Mail to Stefan Berlitz. Last change Freitag, 10. Juni 2011 08:52 |