PAC4SWX DXF/DWG options
PAC4SWX is a tool to print and convert SolidWorks drawing. With PAC4SWX you can choose multiple drawings from your filesystem and print or convert all sheets of all drawings in one step. PAC4SWX will take care of the different sheet sizes.
Set DXF/DWG options
You can set various options PAC4SWX will use for exporting for each sheet in a SolidWorks drawing.
The settings can be saved on a user-bases in the main dialog. If you want to store the settings in a file or read them from a file you may do so from the main dialog.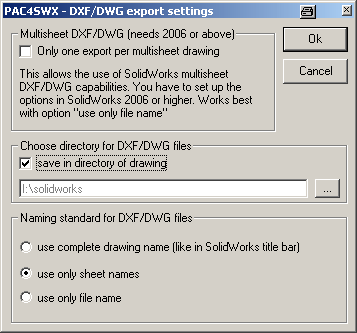 The DXF/DWG option dialog is separated in two areas:
Only on export per multisheet drawing
If this option ist set a SolidWorks multisheet drawing will only be given once with the active sheet to SolidWorks to export as DXF/DWG. The default (unset) will process every single sheet of a multisheet drawing.
With this option it is possible to make use of the multisheet DXF/DWG export functions of SolidWorks 2006 and higher. You have to set up the correct options in SolidWorks export options dialog to make a multisheet DXF/DWG.
Choose directory for DXF/DWG files
If you set the option save in directory of drawing all exported DXF/DWG files are saved to the directory, where the drawing is stored. If you want to gather all exported DXF/DWG files in one directory uncheck this option and enter a directory path in the textbox or use the button to browse the directory (recommended).
Naming standard for DXF/DWG files
You can choose whether the exported DXF/DWG files use the complete drawing name or only the sheet names. If you choose use only sheet names make sure, that all sheets in all drawing have unique names. If your drawings have only one sheet the option use only file name may be useful. Note: don't use the last setting if you have multi-sheet drawings.
Any existing DXF files in the target directory with the same name will be overwritten without warning.
All DXF/DWG export parameters (i.e. AutoCAD version) from SolidWorks will be used. Please change these parameters in SolidWorks if necessary.

| | |
| --- | --- |
| | Any questions and hints? Mail to Stefan Berlitz. Last change Freitag, 10. Juni 2011 08:52 |