PAC4SWX printer settings
PAC4SWX is a tool to print and convert SolidWorks drawing. With PAC4SWX you can choose multiple drawings from your filesystem and print or convert all sheets of all drawings in one step. PAC4SWX will take care of the different sheet sizes.
Printer settings
You can set the values for printing for the different sheetsizes in a SolidWorks drawing sheet. If you feel comfortable with your settings click the OK-button, if you want to reject any chances made in this dialog hit the Cancel-button.
The settings can be saved on a user-bases in the main dialog. If you want to store the settings in a file or read them from a file you may do so from the main dialog.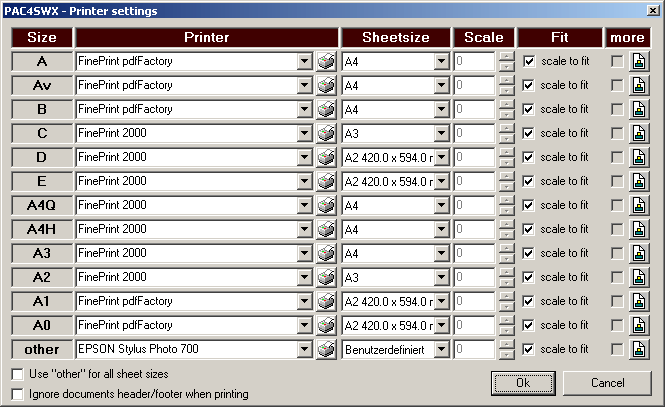 Each row represents one of the known sheet sizes by SolidWorks. In the columns you can enter the settings and options for the specific sheet size:

| | |
| --- | --- |
| | Any questions and hints? Mail to Stefan Berlitz. Last change Mittwoch, 16. Januar 2013 14:46 |