PAC4SWX Run macro options
PAC4SWX is a tool to batch run macros with SolidWorks documents. With PAC4SWX you can choose multiple documents from your filesystem and run a macro with them in one step.
Set Run macro options
You can set various options PAC4SWX will use for running macros with the documents in the PAC list with SolidWorks.
The settings can be saved on a user-bases in the main dialog. If you want to store the settings in a file or read them from a file you may do so from the main dialog.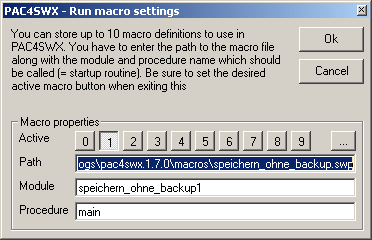 The run macro option dialog is separated in two areas:
Active
In this area you can set the options for up to 10 macros to use with PAC4SWX. To set the parameters for one of these macros just select the numbered button to see the parameters in the text boxes.
The macro, which number (= button) is selected is the active macro. The active macro will be executed if you choose "run macro" from the main dialog.

Path
Enter the full path to the macro. If you click the right button (labeled "...") you can easily select the macro with a browser dialog box.
Module
Enter the name of the module, which holds the starting procedure. Usually this is the same as the macro name with a trailing "1".
Procedure
Enter the name of the start procedure of the macro. This usually is "main"
Unfortunately there are no calls (yet) to gather the informations which modules and which procedures are stored in a SolidWorks VBA macro, so you have to enter this values on your own.

| | |
| --- | --- |
| | Any questions and hints? Mail to Stefan Berlitz. Last change Freitag, 10. Juni 2011 08:52 |